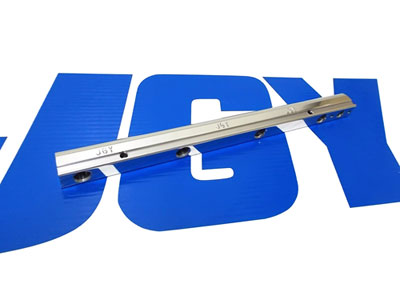 JGY VVL Fuel Rail V2
Newly designed in July 2014, this newest option eliminates the bridge of the old design; great for RWD conversions as well

*Due to the close proximity of the IACV on the FWD VVL intake, some applications of this rail may come in contact with the IACV tube and is not covered under fitment warranty: $139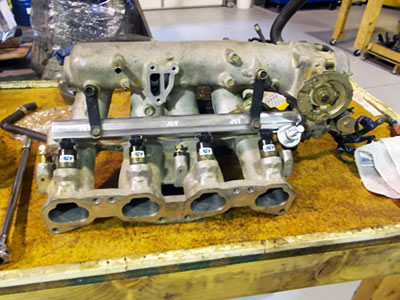 Pictured above is our new 1 piece JGY VVL rail. As you can see, the fitment is great. You can also see the bracket mounting locations. Yes, the Nismo FPR does fit. The 2 piece rail is installed exactly the same.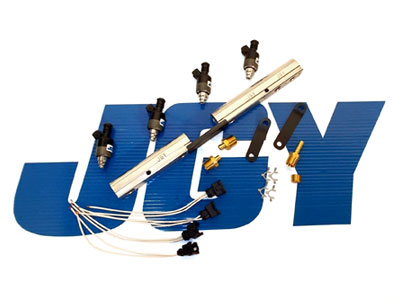 VVL Fuel Rail
The new JGY 2 piece rail was designed for the low clearance on the VVL intake. The new rail gives the VVL owners the options of the MSD style injectors with or without the stock fuel regulator: $139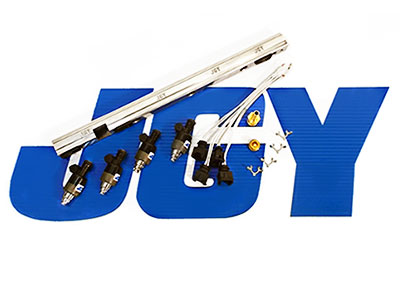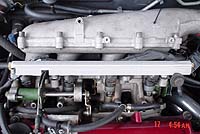 JGY Gti-R Fuel Rail
Available for stock fuel pressure regulator or aftermarket (the Nismo FPR fits the stock location): $159 When ordering, our normal inventory rail ships out for JGY injectors (large size). If using Gti-R injectors, or same size as Gti-R injectors, please inform JGY staff.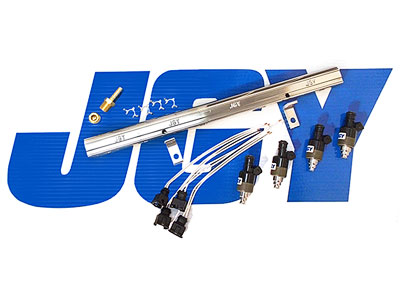 JGY Fuel Rail - B13: $139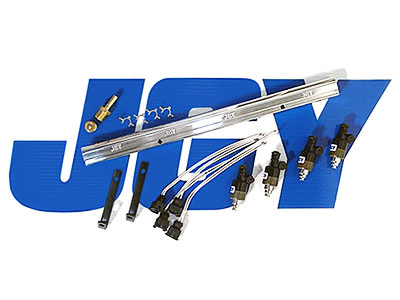 JGY Fuel Rail - B14: $139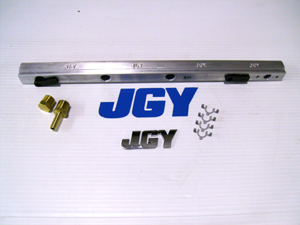 JGY Fuel Rail - B15: $139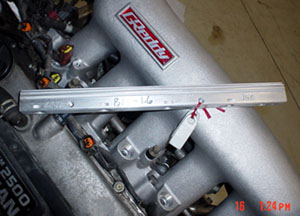 B14 GA16DE JGY Fuel Rail: $135
(Also available for B13 pic not shown)
Click here for installation instructions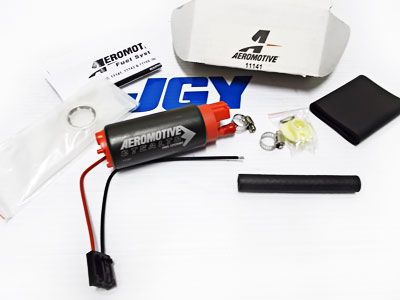 Aeromotive 340 LPH fuel pump kit, now includes filter kit, rated for 700HP: $115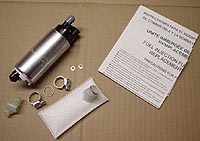 B13 B14 255 high pressure Walbro Fuel Pump: $99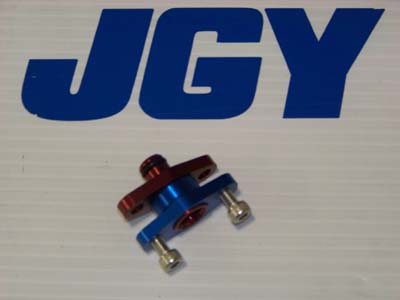 Greddy FPR swivel adaptor
This is used to rotate the factory FPR to a more favorable position: $60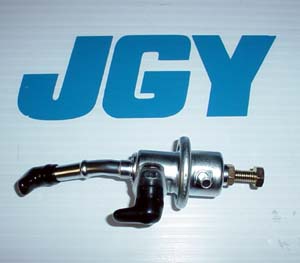 Nismo Adjustable Fuel Pressure Regulator, an effective way to adjust base fuel pressure and to make sure that your fuel pressure is rising as your turbo boost is: $134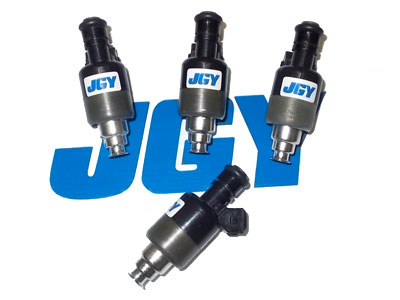 JGY 36lb (370cc) Injectors
Great for replacing your old worn out DET injectors and for upgrades to VVL motors: $55 each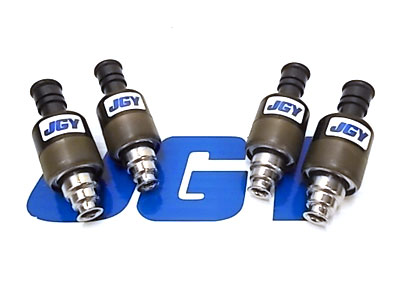 JGY Top Feed High Volume 50lb (550cc) Injectors
High quality, bench flowed and matched
Guaranteed fitment and function with our rails
Just .75ms latency at 13v
Many applications: $65 each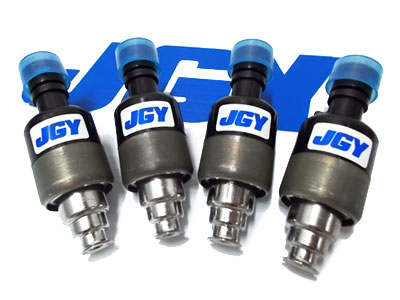 JGY Top Feed High Volume 72lb (750cc) Injectors
High quality, bench flowed and matched
Guaranteed fitment and function with our rails
Just .75ms latency at 13v
Many applications: $75 each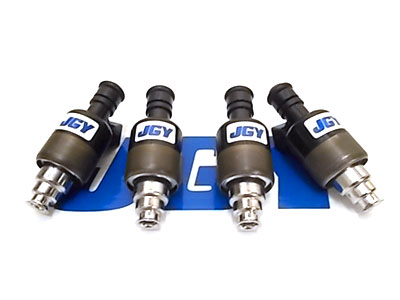 JGY Top Feed High Volume 96lb (1000cc) Injectors
High quality, bench flowed and matched
Guaranteed fitment and function with our rails
Just .75ms latency at 13v
Many applications: $75 each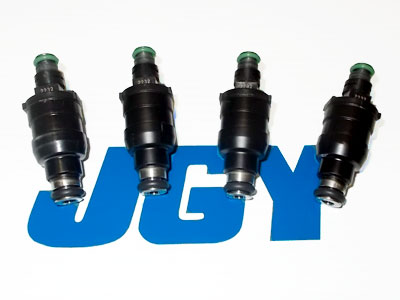 440cc injector, small stem style, high impedance, great for CA18DET and to replace your old GTi-R injectors: $59 each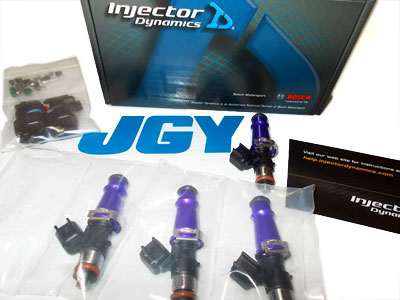 Injector Dynamics 850cc injectors: $125 each (Call for special pricing)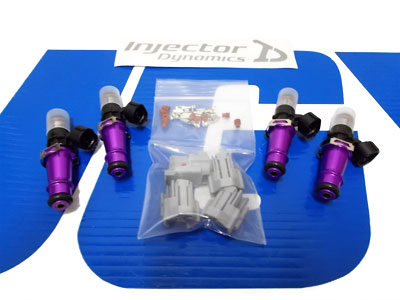 Injector Dynamics 2000cc injectors, 60mm length, 14mm top: $240 each (Call for special pricing)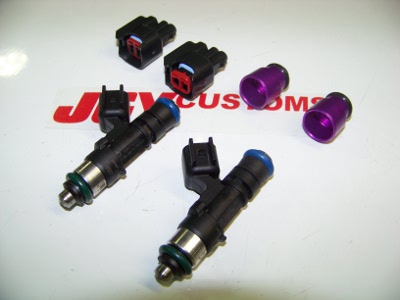 Injector Dynamics injectors are Bosch injectors that are repackaged and sold with adaptor hats so the height is suitable for most applications, such as the JGY rail
ID 725cc: $120 (Call for special pricing)
ID 850cc: $125 (Call for special pricing)
ID 1000cc: $120 (Call for special pricing)
ID 2000cc: $240 (Call for special pricing)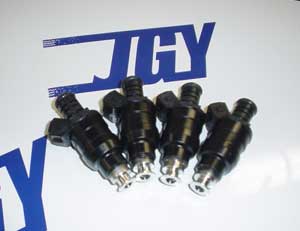 120lb/1260cc Low Impedance Injectors,
fit the JGY rail: $75 each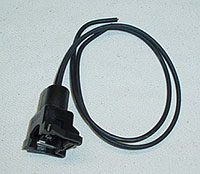 MSD Style Injector Connectors: $5 each
Resistors for low impedance injectors $4 each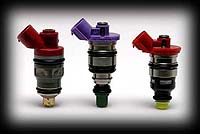 Blitz side feed 555cc: $139 each
Blitz side feed 850cc: $139 each